Quick Quotes
White 100% Cotton Short Sleeve Tees
1 Color 1 Side
1 Color 2 Sides
2 Color 1 Side
2 Color 2 Sides
3 Color 1 Side
3 Color 2 Sides
Combo Deals
1 T-shirt & 1 Sweat Shirt for each team member. Good Quality Tshirt and Crew Neck or Hooded Sweat Top. Email Us if you are interested.
Embroidery/Patches
School Mascots...
Compressed T-Shirts
different shapes, cubes...
Signs and Banners
Team Banners, Signs...
Garments
Dress Shirts, T-Shirts, Sweats...
Graphic Design
Complete Design Department
Promotional Products
Clocks, Pens, Coffee Mugs...
Screen Printing
T-Shirts, Golf Shirts, Sweats...
Stickers/Decals
Custom Stickers, Pricing...
Temporary Tattoos
Custom, Fund Raisers, Stock...
Ideas, Assistance and Ordering
Call Toll Free 1-800-859-1975
Email Us
Bookmark this Page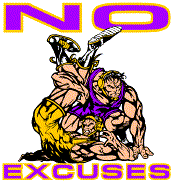 Over 70 designs that can be reworked for your team. Change the writing, colors mix and match.