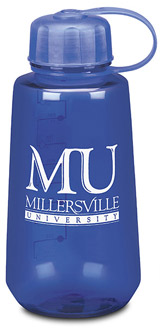 Click Here For larger version
Bottle Dimensions- 3-1/2"w x 8-1/2"h



As Low as $2.99 each
45286 Large Bottle Holder
Click here for prices & info.
This is the most popular New Bottle!
This new sturdy, polycarbonate bottle will not transfer the taste or smell of plastic to your beverage. Perfect for travel, sports, or camping.
Features:
Wide mouth to accommodate ice cubes
Attached translucent screw off lid
34 ounce capacity
Vibrant colors
Top rack dishwasher safe
Optional carabiner
Bottle Colors: Blue, Graphite, Green, Orange, Red
Lid Colors: Blue, Graphite, Green, Orange, Red
Lead Time: 5 days 1 color, multi colored 10 working days (does not include shipping time, or any possible art time)
Imprint Information:
3" x 3-1/2"
Imprint Position: Technical restrictions prevent the exact centering of some artwork on the sides of our bottles. Some artwork will not appear as centered as others.
*Click here for information on printing multiple colors on Water Bottles
2 DAY TURN AROUND AVAILABLE FOR 20% UPCHARGE. 1 color only
The minimum order is 72 water Bottles.
Bottles must be ordered in multiples of 24. No Broken Cases.
If there is a logo, or any other art in the layout, there will be an art charge based on the time it takes to make that art print ready. We charge $50.00 per hour for art.
If you are providing the art, it can be mailed or emailed.
Email art to: info@buypromoitems.com
For instructions on sending art click here: Sending Art
Set-Up Charge: $50.00 per color
Additional Color Charges: 2nd imprint color: $.35 per bottle, 3rd imprint color: $.35 per bottle, 3 COLORS MAX.
Logo will be imprinted 1-sided on front. Second side and wraparound prints are not available.
Use the secure order form above to send us your order.
When we receive your order an invoice will be made. We will add any art charges, etc.. It will be faxed to you for your approval and signature. If you don't provide a fax number we will email just your total cost.